CK-4 / FA-4 for Improved Engine Protection & Fuel Economy
CK-4 and FA-4 oils offer increased protection for existing engines and optimized fuel economy for 2017 engines
The new CK-4 & FA-4 engine oils were motivated by the need for newer engines to meet the latest greenhouse-gas emission standards for on-highway trucks. Both CK-4 and FA-4 are formulated to provide protection against premature breakdown, even when the oil is exposed to the very high operating temperatures that are common in today's hard-working engines.

In fact, one of the new oil performance tests required by the new specs runs the oil at 130°C (266°F) for 360 hours in an engine running at full power! You can be assured that oils meeting the new standards are up to the task of protecting your engine, even under the harshest of conditions.
Have questions about CK-4 or API FA-4 motor oils vehicles?
Call 888-921-4606 or email us today today to speak with a lubrication expert.

We'd be happy to explain how these new categories of engine oils will impact your fleet!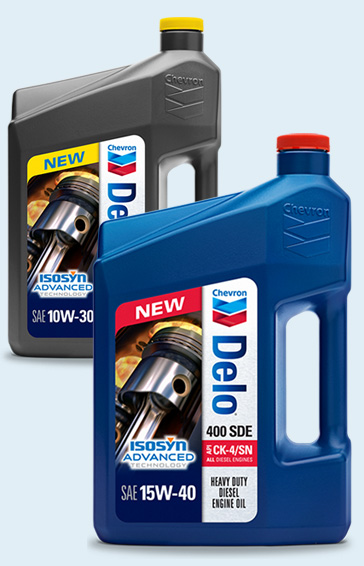 Discover the benefits of CK-4 / FA-4 oils
CK-4 / FA-4 oils increase fuel efficiency and reduce CO2 emissions
These new engine oils are designed to increase fuel efficiency and to help reduce CO2 emissions. However, there are REAL performance upgrades that are being introduced as well.
CK-4 / FA-4 oils stand up to elevated temperatures longer
CK-4 & FA-4 oils are formulated to be more resistant to oxidation - this means that they can stand up to elevated temperature for longer periods of time without "breaking down." This is something that engine makers identified as a priority because of the greater demands that new engines are placing on the oil, as well as the desire for longer oil change intervals.
CK-4 / FA-4 oils protect your equipment with the latest advancements
Using CK-4 & FA-4 oils ensures that you're taking advantage of the latest advancements in wear protection and viscosity control. Obviously, picking the right viscosity grade is important - not only considering operating climate, but also the potential for improved fuel economy.
What is the difference between CK-4 and FA-4?
The primary difference in the two categories of heavy-duty oil is with backward compatibility. API CK-4 oils will support virtually all high-speed four-stroke cycle diesel engines - including older engines that were using CJ-4, as well as new engines that are currently being developed. Use of API FA-4 oils will be OEM dependent and may not be suitable for use in older diesel engines. This category will focus on the next generation of diesel engines that are currently in development to deliver greater fuel efficiency. Other differences include:
API CK-4
Viscosity grades include both SAExW-40 and xW -30 engine oils with >3.5 cP HT/HS viscosity
A higher level of wear and oxidation protection versus API CJ-4 oils
Improved shear stability
API FA-4
Improved fuel economy performance versus API CJ-4 oils
Applies only to SAE 10W-30 and SAE 5W-30 viscosity grades that have are between HT/HS viscosity in the range of 2.9 to 3.2 cP
Developed to deliver excellent engine parts protection even with thinner oil films
Are API CK-4 and API FA-4 suitable for on and off-highway applications?
CK-4 & FA-4 offers to engine oils that are important for diesel engines of all types, even off-highway! With improved oxidation stability, wear performance, and shear stability, CK-4 & FA-4 oils deliver additional benefits to customers around engine durability, oil drain interval extension, and a wider range of products formulated for a wide range of off-road applications.

API CK-4 can be used to replace all API CJ-4 (previous category of oil) use scenarios for both on- and off-highway uses. API FA-4 is recommended in a much more limited set of engines/applications and is not recommended in off-highway applications.
How can I tell which CK-4 & FA-4 oil is right for my fleet?
Selecting the right engine oil product for your fleet starts with an evaluation of the types of engines (make, model, vintage) that make up the fleet. As your local Chevron representative, Domestic Fuels & Lubes would be happy to work with you and recommend products that carry the industry and OEM specification credentials along with the viscosity grade options that meet the engine maker's requirements. This will be increasingly important with CK-4 & FA-4 since there will be even more choices and new OEM requirements and restrictions.
Need help selecting CK-4 & FA-4 oils for your fleet?
Call Domestic Fuels & Lubes Today at 888-231-8540