Lubrication Dispensing and Storage Equipment
Domestic Fuels & Lubes can loan, install, and service lubricant-dispensing equipment and storage tanks for high-volume customers who want to buy lubricants in bulk.
That includes storage tanks, pumps, hoses, reels, and meters. We bring the equipment directly to you, set it up on-site, and then provide you and your employees with a thorough education on how the equipment works and how to use it safely.


Serving Bulk Lubrication Needs Across Southeastern VA and Northeastern NC
Domestic Fuels & Lubes has
our own in-house Service Department
for installations and repair work for lubrication dispensing equipment. That means that you'll always have access to the motor oil, hydraulic fluid, and other lubricants that you need to keep your business running.
Lubrication equipment supplied to a variety of industries
Car Dealerships
Light/Medium-Duty Truck Dealers
Fleet Maintenance
Automotive Repair & Quick Lube
Public Works Garages
Construction Equipment Maintenance Facilities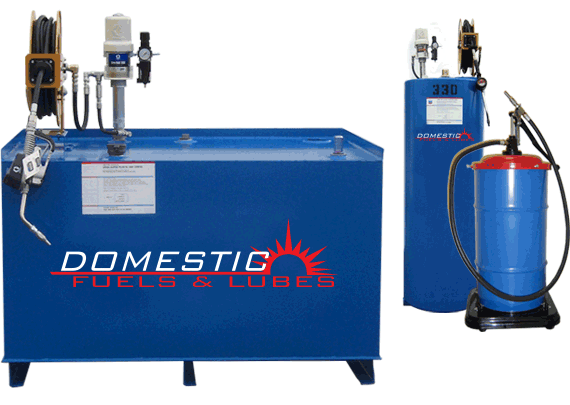 Bulk Tank Storage for Lubricants
Domestic Fuels & Lubes offers a variety of bulk storage tanks, ranging in capacity from 165 gallons to 1000 gallons or more and designed in bench, upright, and cube configurations.

If you prefer totes, we offer both stainless steel IBC totes and all-poly totes. When regulations require double-walled tanks solutions, Domestic Fuels & Lubes can accommodate you with those tanks in appropriate sizes and shapes. All of our tanks are U.L. listed and labeled.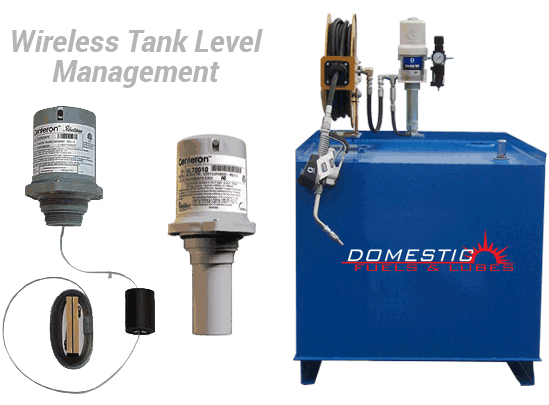 Electronic Tank Monitoring Systems
For greater convenience, storage tanks can be outfitted with electronic monitoring equipment that sends information on fluid levels over a cell phone modem mounted directly on the tank itself. A measuring unit takes level readings daily and sends the information to the customer's computer and to our computers at Domestic Fuels & Lubes. That allows us to schedule and make deliveries as they are needed, and the customer never has to even pick up the phone. It's a state-of-the-art system that ensures you never run out of supply, while you save money by buying in bulk.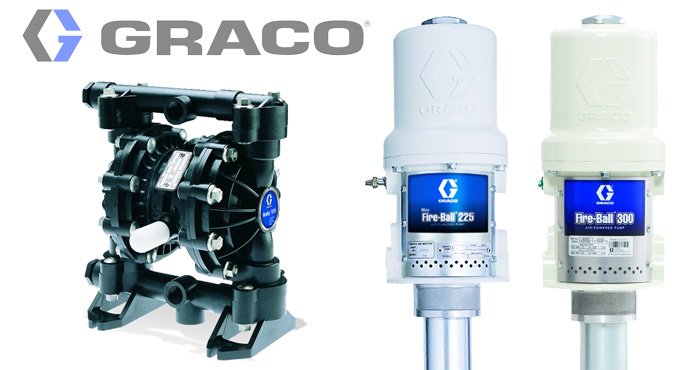 Lubricant Dispensing Equipment
To be successful, your bulk storage strategy requires efficient, reliable pumps, meters, and hose reels - equipment that you can count on to be up and running, day in and day out, over the long haul. To meet those demands, we offer quality equipment from Graco, Lincoln, Balcrank and, other major manufacturers.
Graco Mini Fire-Ball 225 - Low to Medium Volume Dispensing
The Graco Mini Fire-Ball 225 pump offers an in-line design and relatively simple mechanism result in minimal pump wear and less downtime and maintenance. It is flow-rated at up to 2 GPM (7.5 lpm) and has a ratio for oil of 3:1
Graco Fire-Ball 300 - Medium Volume, High-Pressure Transfer
The Graco Fire-Ball 300, a high-quality, corrosion-resistant unit that assures longer pump life. It can pump up to 3 GPM (11 lpm) and has a ratio for oil of 5:1 and a ratio for the grease of 50:1. GPM (7.5 lpm) and has a ratio for oil of 3:1
Graco Husky Diaphragm - Larger Volume, Highly Versatile Pump
The Graco Husky Diaphragm model, which is a simple, reliable unit ideal for transferring oil, used oil, windshield wash, and anti-freeze. The Husky can pump at rates ranging from 16gpm to 50 GPM.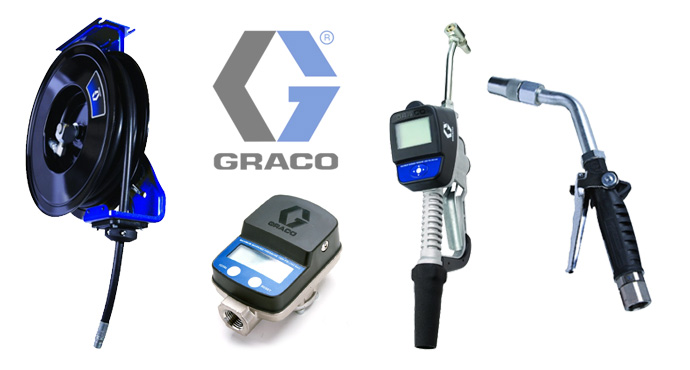 Graco Meters & Hose Reels
To meter your pumping, we recommend two Graco high-flow metering valves. Both can be used to meter motor oils, ATF, gear lube, and anti-freeze, and both are rated for indoor or outdoor use and have multiple extensions available.
Graco SMD Metered Control Valve
The Graco SMD is rated at 1500 psi (103 bar) and comes with a manual and pre-set dispensing control.
Graco XDV20 Control Valve
The XDV20 is also rated at 1500 psi (103 bar), and it carries a twist-lock on-off trigger and boasts a sturdy cast body designed for use in tougher working environments.
Graco SD Series Hose Reels
The SD Series come with a single pedestal frame, metal or composite spools, and they are rated for indoor or moderate outdoor use. Their compact design allows them to fit in small spaces, though they can be installed with their own enclosures. For safety, reel ratchets are non-sparking.
Get Bulk Lubrication Dispensing Equipment and Storage Tanks...
Call Domestic Fuels & Lubes Today at 888-231-8540
---