The Leading Supplier & Distributor of High Quality Marine & Railroad Lubricants for EMD & MAN engines across Southeastern Virginia and Northeastern North Carolina
For all of the businesses in Hampton Road that rely on boats and trains, we are committed to stocking and delivering the lubricants, mechanical fluids, and associated products those machines need to be up and running in top form.
When it comes to marine and railroad lubricants, we can provide the right products, on spec, and on time. If that means installing separate storage tanks and a dedicated delivery compartment for zinc-free lubricants - or - provide timely deliveries "over the water" to marine vessels at area ports, we stand ready to accommodate your needs.
Consider a Chevron Reliability Based Lubrication (RbL™) program
Domestic Fuels understands the unique challenges that are involved in maintaining boats and trains for maximum uptime and efficiency. Find out how you can go further with your equipment using Delo® products and Chevron's Reliability Based Lubrication (RbL™) program.
We have the Marine & Railroad lubricants you need:
Engine oils
Zinc free oils
Coolants
Hydraulic fluids
Ashless hydraulic fluids
Gear oils
Greases
Transmission fluids
Steering fluids
and more!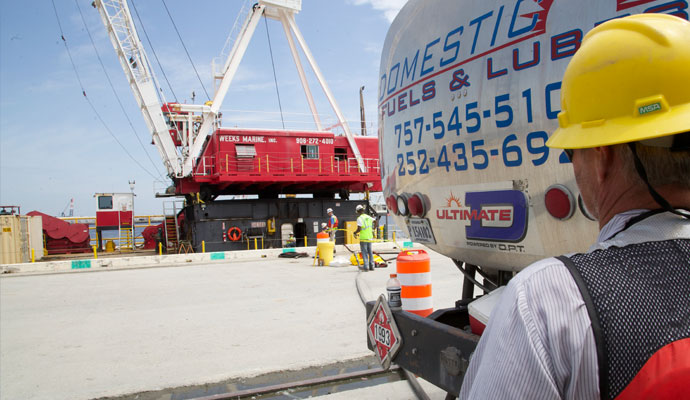 Engine Oil, Hydraulic Oil & Lubricants for the Tidewater Marine Industry
To facilitate our service to the marine industry, Domestic Fuels & Lubes has obtained certification from the U.S. Coast Guard for "over water" deliveries in Virginia and North Carolina. That means we can park our trucks at the dock and deliver lubricants and fluids directly to active marine vessels - as we do regularly for Tidewater fishing boats, tug boats, Coast Guard vessels, ferries, and vessels operated by the National Oceanic and Atmospheric Administration.

We stock a variety of engine oils formulated for use in engines using a variety of marine diesel fuels; environmentally acceptable hydraulic oils that meet VGP requirements; greases for marine applications and more.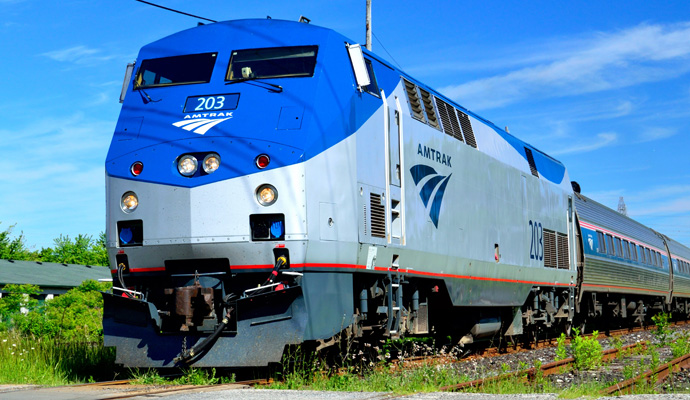 High Quality Locomotive and Rail Car Lubricants
Because many of the bearings in these locomotive diesels are manufactured with silver coatings, the lubricants used to protect them must be free of zinc. Zinc is a common component in many standard oils, but it is a chemical enemy to the silver coatings in these locomotive diesels. Even small amounts of zinc in the motor's lubricant would prove highly corrosive.

That's why at Domestic Fuels & Lubes we maintain separate delivery trucks, storage tanks, and pumping and piping systems dedicated exclusively to the sort of zinc-free lubricants required by these locomotive diesel engines.

Leading the Way in Diesel Exhaust Fluid (DEF) for Rail and Marine in VA and NC
Diesel motors abound in the railroad and marine industries, so government mandates to reduce air pollution in diesel motor exhaust are an on-going concern. And that's one more reason that Domestic Fuels & Lubes has become an important partner to these industries, as we are a major source for Diesel Exhaust Fluid (DEF), a water-based solution that neutralizes the pollutants in diesel exhaust that contribute to the formation of smog, acid rain, and ozone. Learn more about DEF here.

And, as we do for every other industry and type of business we supply, Domestic Fuels & Lubes makes our highly-trained technicians available to railroad and marine businesses to conduct overviews and analyses of why and how a particular business uses our lubricants, fluids, and other products. Our aim is to help those businesses use our products more efficiently and effectively, so that their vehicles and machines run better and longer, and their bottom lines stay healthy.
Keep Your Marine & Rail Operations Moving Smoothly...
Call Domestic Fuels & Lubes Today at 888-231-8540